Contraception Prioritization 
Contraception Titles and Topics
Cochrane is committed to producing high-quality, relevant, accessible systematic reviews and other synthesized research evidence. We have identified 11 high priority topics that need to be updated or need to be written.
Interventions for preventing unintended pregnancies among adolescents 

Strategies for treatment of heavy bleeding or pain associated with intrauterinedevice use 

Adapted from: Non-steroidal anti-inflammatory drugs for heavy bleeding or pain associated with intrauterine-device use 

Combined hormonal versus nonhormonal versus progestin-only contraception in lactation 

Immediate versus delayed postpartum insertion of contraceptive implant and IUD for contraception 

Contraceptives methods for contraception in overweight or obese women

Adapted from: Hormonal contraceptives for contraception in overweight or obese women 
Emergency contraception methods (all/any IUDs and medicines) 
Hormonal contraception and treatment of unexplained vaginal bleeding  
Treatment of bleeding problems with contraceptive implant use 
Medical abortion and timing of contraception 
Strategies for access and adherence (including OTC contraceptives) 
Contraception use in complex patients
 If you are interested in becoming involved with the Cochrane Fertility Regulation Group as an author, please visit our author resource page.
High quality research and systematic reviews on contraception are important for supporting safe and high quality care.  In 2019, we completed a priority setting exercise to identify the highest priority contraception topics, categorize our current review titles, and determine areas of clinical importance where evidence was available but no Cochrane systematic review has been initiated (gaps in the research). Our prioritization process went through a four-step prioritization process, slightly amended from our abortion prioritization process. (1) Search: We acquired the number of citations for Cochrane contraception reviews from Google Scholar, SCOPUS, the Cochrane Library and the number of downloads from the Cochrane Library.  (2) Internal Review: We conducted an internal review of Cochrane contraception reviews. Our internal governance group assessed high, moderate and low priority, in addition to reviews that should be retired. Out of the 72 reviews, two were voted to be retired. (3) We engaged an external expert panel to provide feedback and input on new and existing topics given through a preliminary ranking and the brainstorming of new topics. (4) A survey was disturbed widely to providers and consumers of contraception, prioritizing existing reviews and new topic areas. An infographic of our process is attatched here. 
A diverse group of stakeholders participated in the final Delphi process, 130 participants (see Figure 1). We are committed to supporting updates of the top 5 existing titles identified as well as generation of future reviews focused on 6 new priority topic areas within the next 2 years.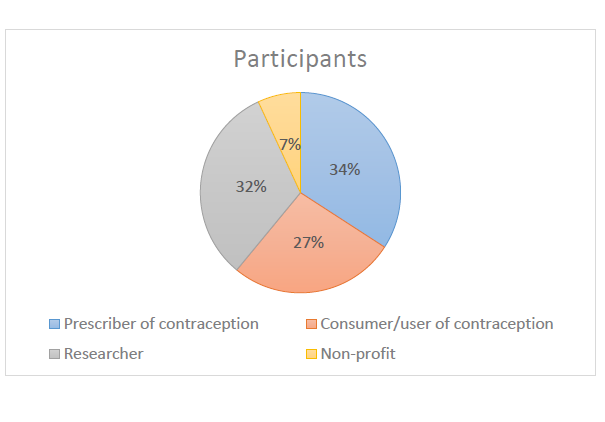 Figure 1